Programme Structure & Mobility
The EMMBIOME programme is based on the strengths of each partner University, in order to offer students a well-rounded Master programme. This is a two-year Master programme (120 ECTS), that will provide student competence through knowledge acquisition from various disciplines, with their active interconnectedness, as well as professional skills necessary for engagement in practice and competencies for continuation of academic education at the next level of studies (doctoral academic studies).
The programme will be taught in English. Students will start their first year at the University of Kragujevac where they will finish the first semester and earn 30 ECTS. This will be followed by the second semester at the University of Patras where they will also earn 30 ECTS. During the third semester, the students will move to the University of Medicine and Pharmacy Grigore T. Popa, where they will acquire 30 ECTS. The last semester will be dedicated to the Master thesis, and students will divide into three groups, each group will do the Master thesis at one the partner Universities.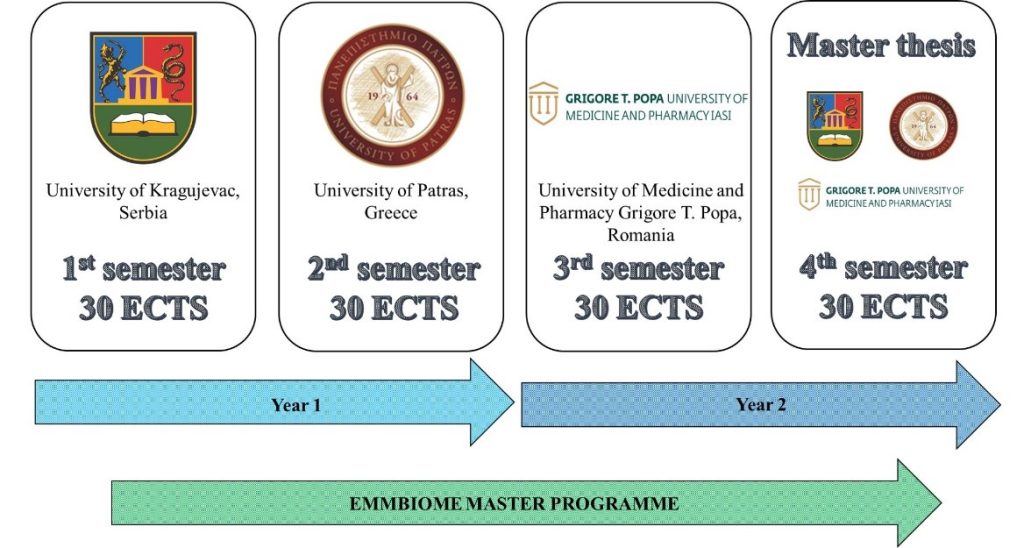 This structure enables students from partner Universities to complete the required mobility periods – at least two 30-ECTS semesters in two different programme countries. Each University will recognize the ECTS obtained at other two Universities in order for each institution to issue a Master degree. 
After the student defends the Master thesis, each institution will issue a diploma based on their national accreditation. Those diplomas will be:
1. Master Engineer of Biomedical Engineering by University of Kragujevac (60 ECTS)
2. Master Engineer of Biomedical Engineering by University of Patras (90 ECTS)
3. Master Engineer of Biomedical Engineering by University of Medicine and Pharmacy Grigore T. Popa (120 ECTS)